Welcome To
B&J Engineering
B&J Engineering is a full service machine shop, our capabilities include, CNC and manual turning and milling, OD, ID and surface grinding. We also specialize in many forms of gear and spline generation.
SuperLight Championship Quick Change Gears
Lightening holes for further weight reduction
Midget Quick Change Gears
Designed to be the lightest and strongest gears available
59 Standard Ratios
Special Ratios upon Request !
CNC Multi Axis Turning Centers
With current technology applied to small or production quantities CNC Lathes provide you cost-effective and high quality results. Our CNC Lathes vary in size and enable us to machine up t0 16″ in diameter and 60″ length.
Mori Seiki ZL3-A 4 Axis

Mori Seiki ZL3-B 4 Axis

Mori Seiki ZL-25B 4 Axis

W & S Titan 4 Axis 15″ X 60″

Cincinnati Milacron 15U60 15″ x 60″

Mori Seiki ZT-2500Y 8 Axis Mill Turn

Mori Seiki NT4200DCG 10 Axis Mill Turn

Cincinnati Milacron 10″ And 12″ Heavy Duty Chuckers
Our CNC mill department consists of Horizontal and Vertical Milling centers. These machines are capable of machining prototype and production quantities of all types of material. With 4-axis milling capabilities we are able to do complex parts in fewer operations to complete the job in a more timely fashion.
Vertical Mori Seiki MV-45B
Matsuura MC-800-VDC Twin Spindle
Vertical Cincinnati 20VC-2000 80″ Travel
Horizontal Niigata MPN-80 60″ Travel
Gear Hobbing – Shaping – Broaching
Our hobbing and shaping machines allow us to produce gears and shafts ranging in size from 1/2″ up to 24″ diameter and 60″ plus in length.
Axles
Flanged Stub Axles

Transmission Parts

Spur And Helical Gears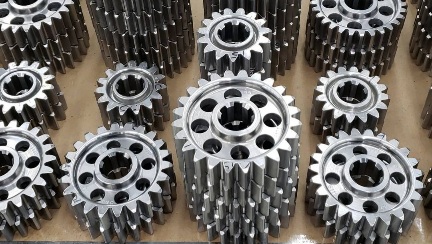 Quick Change Gears
Looking for Quick Change Gears? We have over 120 ratios to choose from that are typically in stock and available for shipment!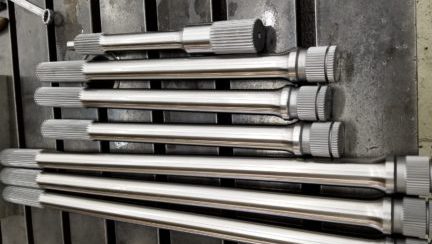 Custom Axles
We are able to create custom axles for many different applications including sprint and midget axles, off road, rally cars, drag racing and UTV.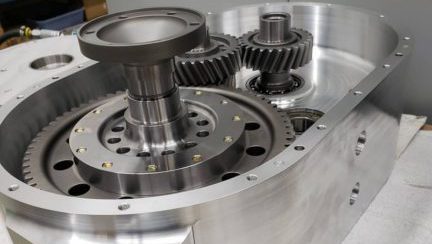 Other Capabilities
Let us work for you. We have over 40 Plus years of machining, designing, implementing and creating metal solutions.